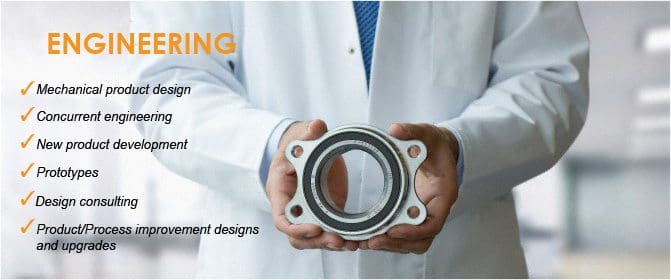 Concept Industries offers complete turn-key engineering services for mechanical product design, prototypes and existing component / assembly modification.  We utilize our extensive manufacturing knowledge to design components and assemblies to maximize manufacturing efficiency.
Services offered:
Design consulting
Concurrent engineering
New product development
Mechanical product / process design
Reverse engineering
Prototypes
Product / Process improvement designs & upgrades
Full engineering support using 2D & 3D Solid Modeling Software (Solidworks)
We utilize a variety of 2D & 3D software applications to accommodate customer needs and applications.  Designs are created in AutoCad and Solidworks.  Files can be converted and exported to various formats including DWG, DXF, IGES, STEP and solid models.
Engineered files can be output directly from geometry to drive manufacturing output. This allows for rapid turnaround on prototype projects while minimizing unnecessary design conversion or machine programming time.  This all translates to faster response times and overall project expense reduction.
Prototypes are created using the following manufacturing processes:
CNC machining
CNC turning
Laser cutting
Sheet metal forming
Tube bending
Welding
Assembly